Top 10 Finest Company Registration Services in Singapore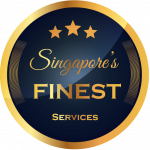 We're thrilled to have been awarded top 10 finest by Singapore's Finest.
This would not have been possible without the continuous support from our great clients, who have been understanding, patient, and appreciative of our services. We thank all of you, to allow us to great stuffs like this.
Whether you're a foreigner, or a local citizen looking to start a new business or company; it is a big deal. Don't risk it getting it done else where. Speak to us for a non-obligatory consultation. We'll be happy to address the questions you have.