When you engage Leftright Corporate for your company's annual compliance requirements, you'll need to authorise us as a third party entity in your company's CorpPass profile, in order for us to make the filing submissions on your behalf.
CorpPass is the required login method to transact with all government related entities, including but not limited to IRAS, MOM, Business Grant Portal etc.
The following are 3 methods by which you can add us as a third party entity. In order from the most convenient, to the least.
Method 1: We'll do it for you
If you have appointed us as your company secretary, and have expressed your approval for us to be registered as one of the Registered Officers in the company's CorpPass; then we'll be adding Leftright Corporate as a third party entity on your behalf.
There are no actions required on your end, and we'll keep you informed of every step we've taken to make sure you're aware.
Although this is the simplest and most convenient method – the only caveat is that there is only a limit of 2 registered officers that can be registered with CorpPass. If there are already 2 existing ones, then you can try method 2 as follows.
Method 2: Add your company secretary as a sub-admin
Even though due to the limit 2 registered officers, you can still add your company secretary as a sub-admin. There are no limits to the number of sub-admin accounts in CorpPass.
With access to a sub-admin account, we'll then be able to authorise us as Third Party entity on your behalf.
CorpPass has made a comprehensive guide to adding a new user in their PDF guide. It should not take you more than 15 minutes to add a new sub-admin user.
In the event you prefer to be hands on, and have full control & access to your own company's CorpPass account – you may opt to authorise Leftright Corporate as a Third Party entity yourself.
This process, should not take longer than 20 minutes.
How To Authorise Third Party Entity in CorpPass
Necessary Steps
Step 1
Login to CorpPass with a Registered Officer or Sub-Admin user account.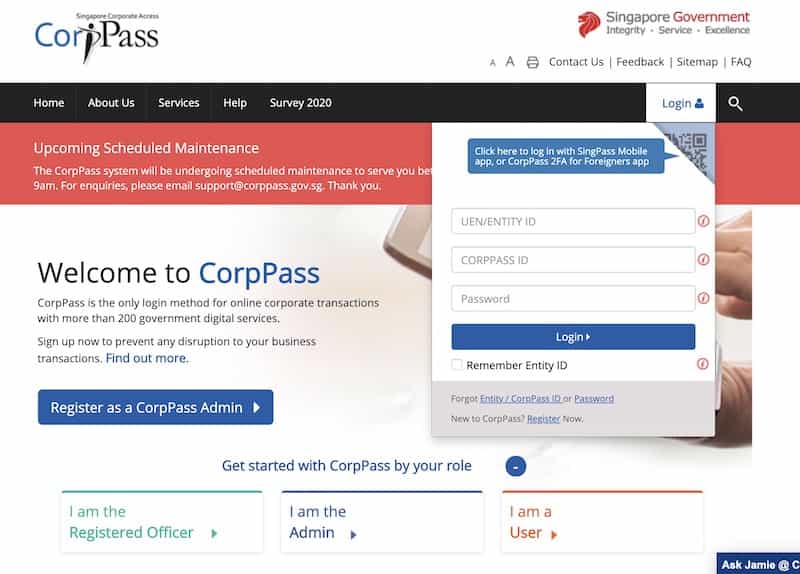 Step 2
At the bottom in the middle of your screen, Select Third Party then Authorise Third Party Entity.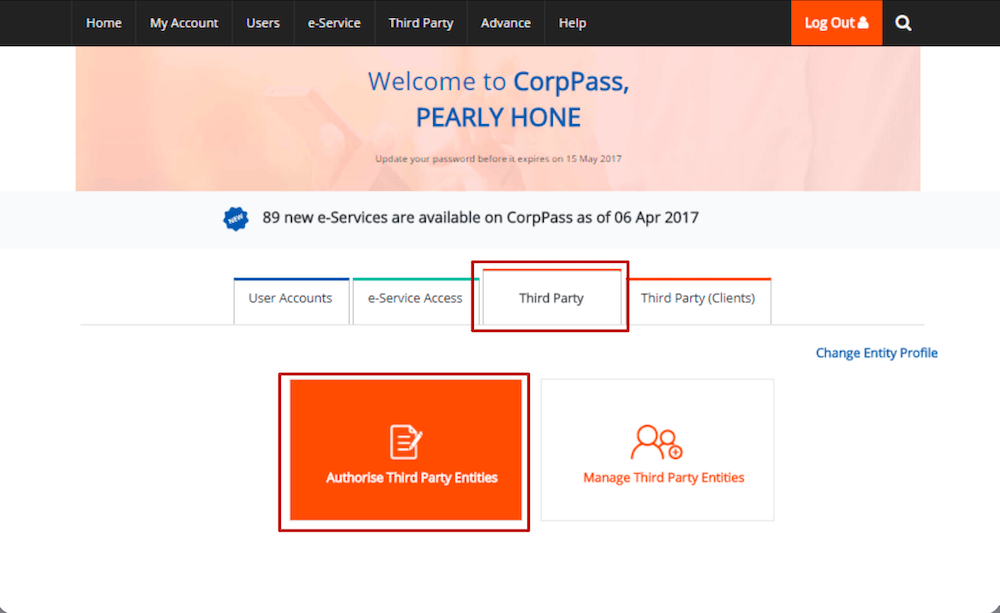 Step 3
Search for Leftright Corporate Pte Ltd's UEN: 201834718N, and click search.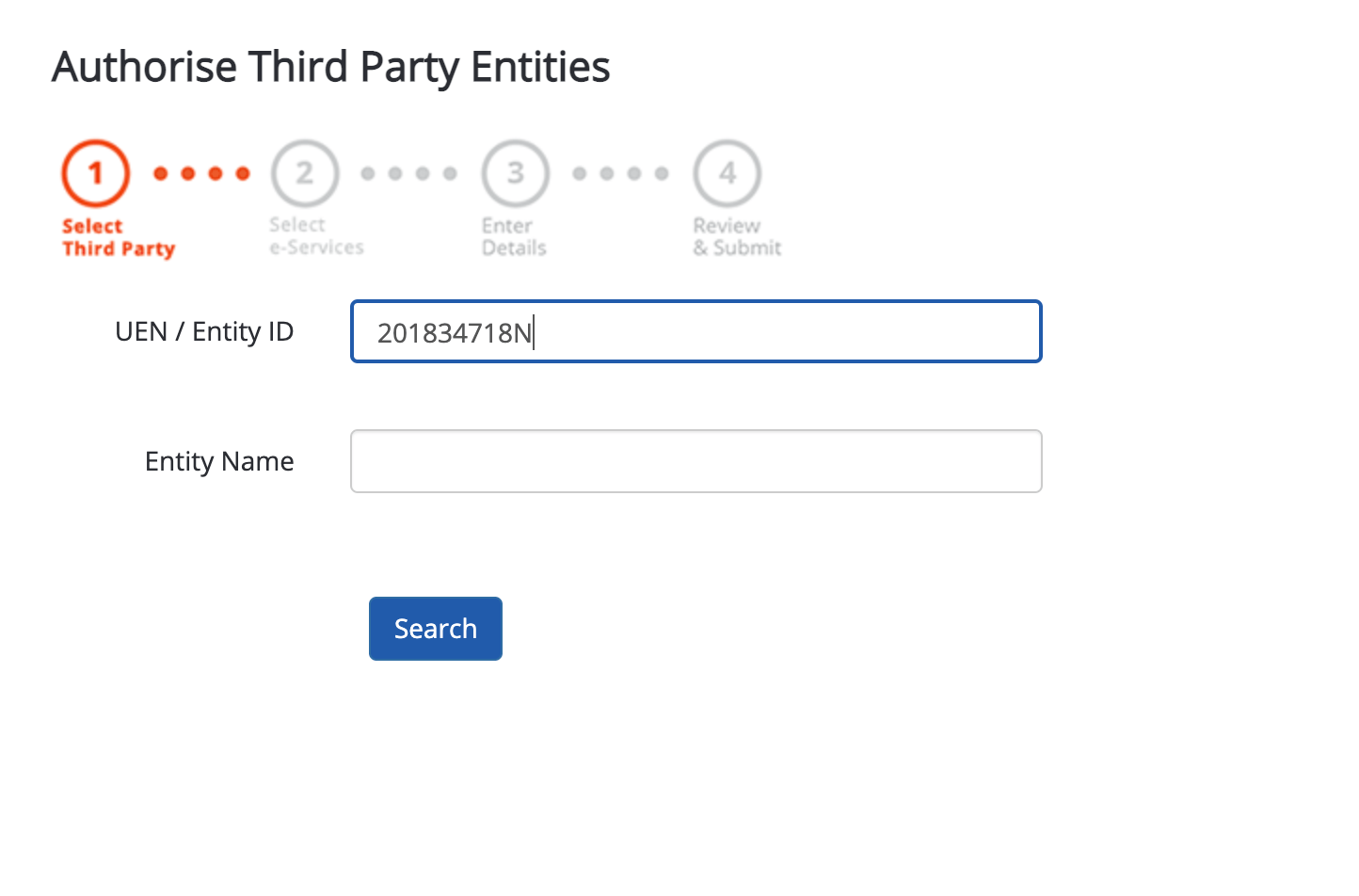 Step 4
Check the box on the left of Leftright Corporate Pte. Ltd. and click next.

Step 5
Search for the service you would like to authorise us for. In most cases, the service you'd be looking for would be IRAS – CORPORATE TAX (FILING AND APPLICATIONS).
If you do not see this entry, this means that you would first need to add this e-service into your CorpPass account.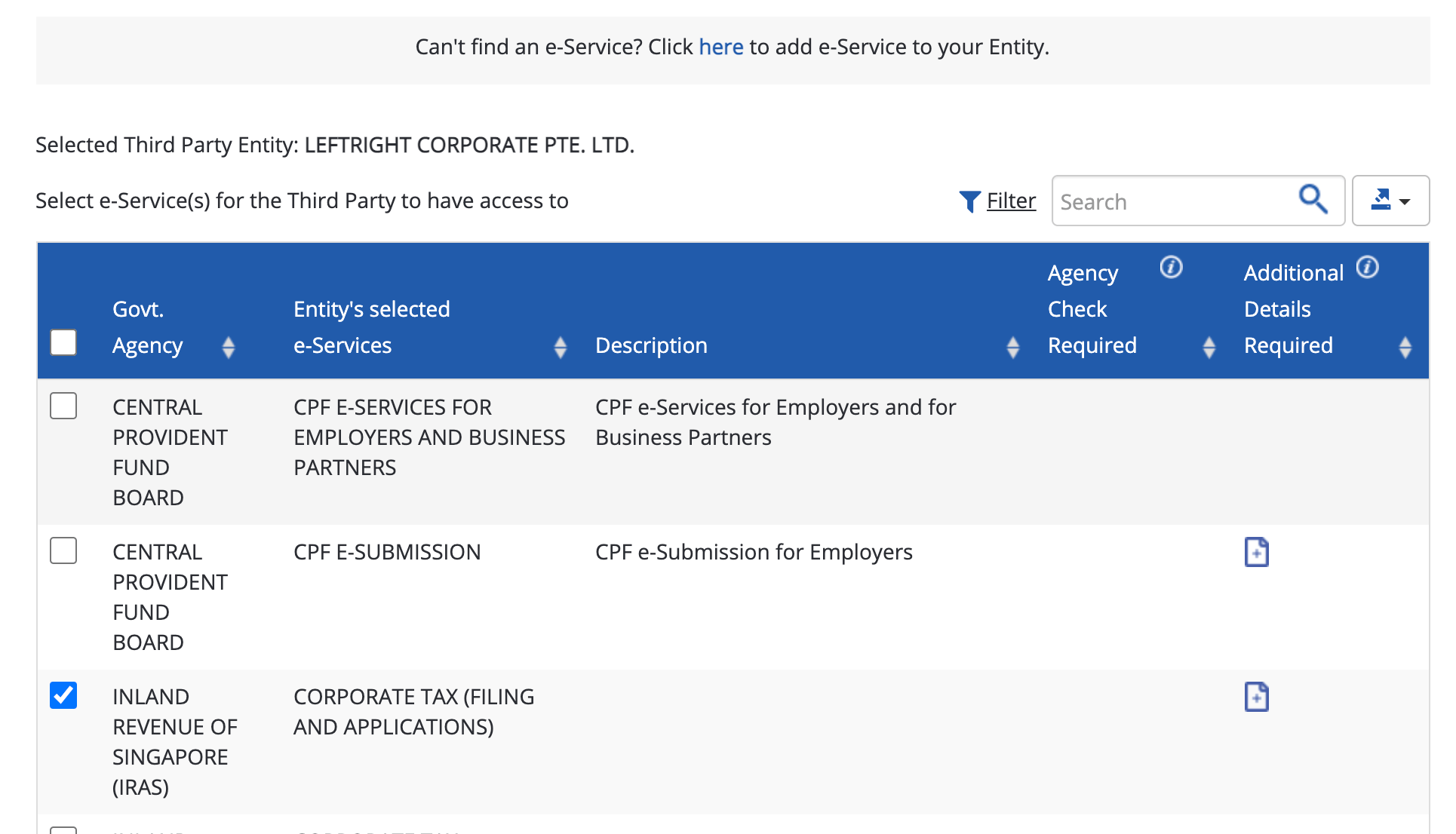 Step 6
– Select the role you'd wish to authorise us for. Either approver, or preparer would work. As preparer, upon our submission – you would then need to login to IRAS to approve and submit the filing.
As approver, we can both apply and submit the filing completely without any action required on your end.
– Select the effective and end YAs of the your company which we'll be able to assist with.
– Select how long this authorisation will be for.
Finally, you can select next, and submit.