Just announced on 17th August 2020 in the Ministerial Statement on Continued Support, the Job Support Scheme (JSS) has been extended by an additional 7 months; up till 31st March 2021. Accounting for the extension, the JSS would have provided employers with salary support of a total of 17 months.
What is the Job Support Scheme (JSS)?
The JSS is an initiative introduced to encourage, and incentivize employers to retain their employees. Under the JSS, the Government co-funds between 10% and 75% of the first S$4,600 of gross monthly wages paid to each Singaporean or permanent resident employee.
What's new from August 2020, after the JSS Extension?
DPM Heng Swee Keat stated that the initial 10 months of JSS support from November 2019 to August 2020 cannot be sustained, as it draws heavily of the country's reserves; as well as risk trapping workers in unviable businesses.
This time, the extension of 7 months JSS support will be adjusted based on a tier basis, depending on the sector of the eligible company; ranging from 10% to 50%. Refer to the following infographic, courtesy of CNA.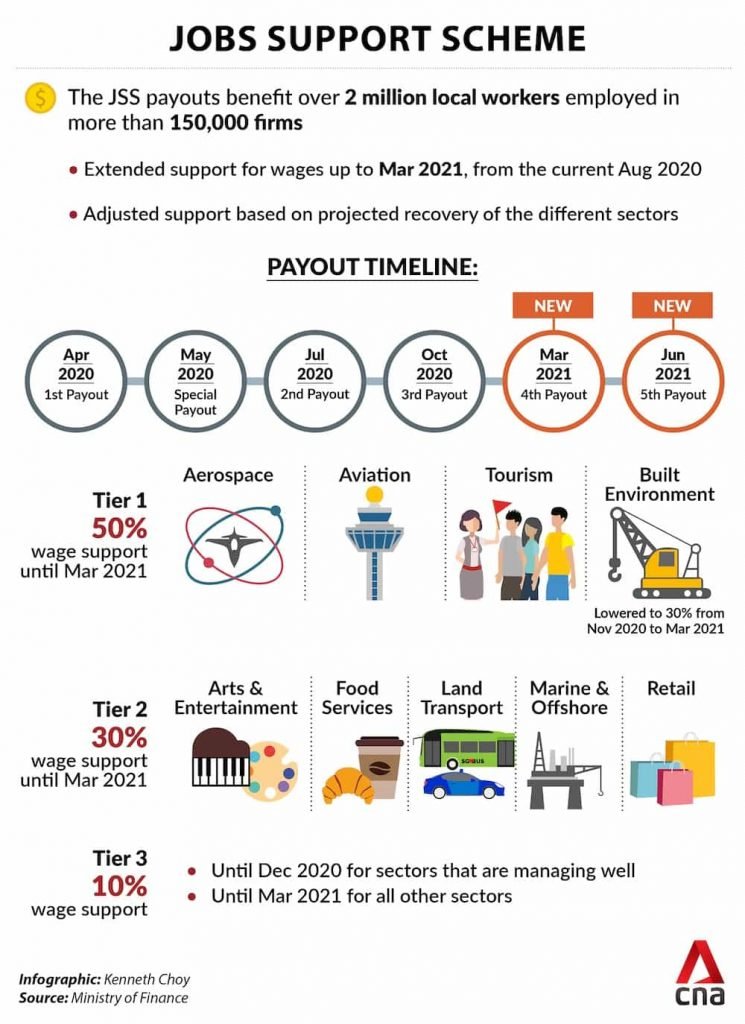 How are tiers determined? What tier does my company belong to?
The association of tiers to your company is dependent on your company's Singapore Standard Industrial Classification (SSIC) code. An SSIC code is essentially the code of the business activity your company is assigned, during your initial company incorporation.
You may refer to your latest company's business profile, which would state the company's SSIC code. You may also search for the respective SSIC code on BizFile.
To identify which tier your company belongs to, you may refer to IRAS comprehensive list (Click on the "Notes" button to expand the different classifications and SSIC categories).
How to apply for the JSS extension?
Similar as before, no application is necessary to receive the JSS payouts. If you are an eligible company, whereby the company falls within the respective tier lists, and who have made mandatory CPF contributions for their local employees (Singapore Citizens and Permanent Residents), your company will automatically receive the payouts.